Better Concentration & Academic Performance in School
Neurocognitive Training leads to better attention and on-task behavior in school. This provides a solid foundation for better learning.
The BrainX system is currently being implemented in schools all over the world. It provides support tailored to individuals and small groups with special needs. A teacher, teacher-assistant, or SEN teacher will supervise the training as a Neurocognitive training coach, depending on the group type and specific needs. The skillset and expertise of the educators have a substantial role to play in an institutional environment in contributing to program compliance and student success. The presence of peer support from the group also promotes mutual-support and positive learning atmosphere for greater success.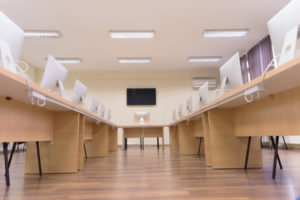 While students receive their specific academic or linguistic trainings as they identify weaknesses in those areas, BrainX offers a deeper layer of learning benefits to supplement these conventional trainings. BrainX provides students with tools and methodology that help in improving focus / concentration, better time on task, better processing skills, better self-control in the classroom/home environment, better listening skills and better reading comprehension, all of which form essential parts in enhancing students' learning abilities. Read more about these effects in our Research Studies section.