RESEARCH STUDIES On Our System
The neurocognitive system has undergone randomized, controlled studies funded by the US Department of Education and performed by a Tuft School of Medicine.  The articles below have truly excellent outcomes and are published in peer reviewed journals.
---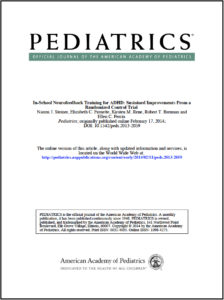 The Journal Pediatrics (PEDIATRICS Volume 133, Number 3, March 2014)
This peer reviewed journal discusses a six month follow up review of a study performed on Our Neurocognitive Training System by the prestigious Tufts School of Medicine in the Boston Public Schools.  Our system is termed "Neurofeedback" in the article.
Result:
The researchers found that, "participants made more prompt and greater improvements in ADHD symptoms, which were sustained at the 6-month follow-up, than did CT participants or those in the control group. This finding suggests that neurofeedback is a promising attention training treatment for children with ADHD."
---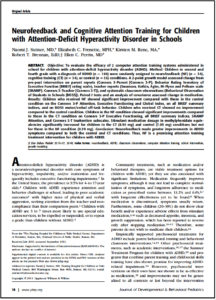 Journal of Developmental Behavioral Pediatrics – January 2014, Volume 35 – Issue 1, p 18-27
The Floating Hospital for Children of the prestigious Tufts Medical School performed a controlled study of our Neurocognitive Training System in the Massachusetts School System. The outstanding results were published in the journal Clinical Pediatrics.  Here's a brief overview of the results:
Our system is termed "Neurofeedback (NF)" in the article.
Results:
Children who received Neurofeedback (NF) showed significant improvement compared with those in the control condition on the Conners 3-P Attention, Executive Functioning and Global Index, on all BRIEF summary indices, and on BOSS motor/verbal off-task behavior. Children who received Computer Training (CT) showed no improvement compared to the control condition. Children in the Neurofeedback (NF) condition showed significant improvements compared to those in the CT condition on Conners 3-P Executive Functioning, all BRIEF summary indices, SKAMP Attention, and Conners 3-T Inattention subscales. Stimulant medication dosage in methylphenidate equiv-alencies significantly increased for children in the CT (8.54 mg) and control (7.05 mg) conditions but not for those in the Neurofeedback (NF) condition (0.29 mg). Conclusion: Neurofeedback (NF) made greater improvements in ADHD symptoms compared to both the control and CT conditions.
---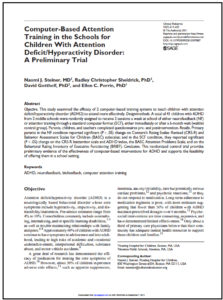 The journal Clinical Pediatrics (CLIN PEDIATR 2011 50: 615 originally published online 10 May 2011)
This peer reviewed journal discusses the use of our Neurocognitive Training System and cognitive attention training in public schools. The researchers were so inspired by their success, they received funding for a 19 school study that was published in Journal of Developmental Behavioral Pediatrics – January 2014.
Result:
Primary parents in the NF condition reported significant (P < .05) change on Conners's Rating Scales–Revised (CRS-R) and Behavior Assessment Scales for Children (BASC) subscales; and in the SCF condition, they reported significant (P < .05) change on the CRS-R Inattention scale and ADHD index, the BASC Attention Problems Scale, and on the Behavioral Rating Inventory of Executive Functioning (BRIEF).
Conclusion:
This randomized control trial provides preliminary evidence of the effectiveness of computer-based interventions for ADHD and supports the feasibility of offering them in a school setting.
---
Other Relevant Articles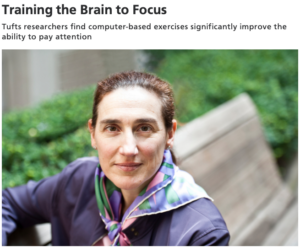 Training the Brain to Focus
Tufts researchers find computer-based exercises significantly improve the ability to pay attention
Naomi Steiner, associate professor of pediatrics at Tufts School of Medicine,
Answered question:
⊗ What is the best age to start neurofeedback training? Is it ever too late?
Naomi Steiner: Neurofeedback training covers all ages. It works through the principle of brain plasticity, which means the brain can adapt by responding to stimuli or input from the environment. We can train the part of the brain that is responsible for attention—the frontal brain—by using the brain's capacity to change. Plasticity is at the highest in younger children and tends to decrease throughout life. Neurofeedback training would be appropriate for all elementary school-aged children, but we know it has also been helpful training attention in adults, even in the 50-plus group. For that age group, we are talking about more than just attention; it also helps keep up cognitive skills. So neurofeedback can have different purposes at different ages, but there is always the same goal: improving brain function.
⊗ How soon can people expect results?
That's extremely individualized. Middle and high school students and adults might start to see results around session 10 or 15—perhaps more or less; it really depends on the individual. Younger children take longer. There's a huge divergence.
What's interesting with neurofeedback is that adults only require 20 sessions compared with around 30 to 40 for elementary school kids. We think that's because while children benefit mainly through brain plasticity, adults use what we call metacognition; that is, they think about how they're thinking and learning. They are aware of how they can use the skills they're learning to bridge their deficits. This, along with the neurofeedback, really is quite a tremendous combo for adults with ADHD and attention/organization difficulties.
⊗ Is it necessary to have an official ADHD diagnosis to take advantage of neurofeedback training?
That's one of the questions I get most often. Medical doctors use a diagnosis because treatment for ADHD traditionally has been based in the medical office, and the number-one treatment has been medication, although of course behavioral therapy has been shown to work. Stimulant medications are psychotropic medications, which have side effects, so having a correct diagnosis, meeting the full diagnostic criteria, is very important.
On the other hand, we do not know of any side effects of neurofeedback attention training, so receiving the attention training doesn't require a medical diagnosis of ADHD. Why not just train our brains to become better? We can start to look at attention skills as a spectrum. We can have parents and teachers as well as the students and adults themselves identify problems—inattention, inability to complete assignments, forgetfulness, disorganization. They can take advantage of these techniques to train their brains. This is a huge paradigm shift.
⊗ You have identified zero side effects?
We really did not see any side effects in our study. Obviously, having the kids being pulled out of the classroom for 40 sessions could be seen as a lot of time out of the classroom. But some of these children are not having a very positive experience in school. For some of them, this may have been the first time they were being given a fair chance to improve at something at their own pace. One of the added benefits we noticed in these children was that they gained self-confidence as they progressed throughout the neurofeedback intervention.
⊗ Does a child have to stop taking medication to use the cognitive training programs?
No. This was one of the first studies that included children on medication as well as children not on medication. The group taking medication progressed just as much as the group who were not. This is really important as a clinical finding, because it means that if a child is on medication and needs it to function while he or she does the neurofeedback intervention, that's OK. They don't have to choose.
⊗ It sounds like you think we all could benefit from brain training. Should we all try it at home?
I think right now it should be done through practitioners, as the programs are sophisticated and require some outside support. But as this technology becomes more accessible, different treatment modules will evolve depending on treatment goals. I think this is something many families will be taking into consideration, perhaps in consultation with a therapist. More and more school systems are becoming interested, too. From the public health perspective, giving access to these kinds of interventions to all children during the school day is a dream goal.
⊗ What symptoms does neurofeedback brain training address?
Quite simply, we have found it helps kids pay attention. Students will say, "I'm starting to realize when my mind wanders." Or "Yesterday at school, I realized I wasn't paying attention, and I can bring myself back now." As they continue to practice, they strengthen the part of the brain responsible for focusing.
The brain training also decreases hyperactivity and impulsivity. Hyperactivity is the lack of ability to control the body. Impulsivity is the lack of ability to think twice before doing something. What it looks like on the playground is snatching a toy without asking. Or in the classroom it's shouting out answers without raising your hand. Kids like this get into trouble very early. Let's not forget, they aren't doing it on purpose. But they get labeled; they develop low self-esteem, and school does not become a fun place for them to be.
⊗ What else does it improve?
It also turns out that executive function, which we know is related to attention and also is seated in the frontal brain, improves significantly. This is huge news. Executive function skills relate to the brain's ability to orchestrate what it's about to do. And they are extremely important, because as soon as kids hit middle school, life becomes all about how good you are at organizing your time. You have four teachers, in four classrooms. Which one do you go to at what time?
Many students will automatically color code their assignments. Other students will need to be taught those kinds of self-management skills. They can be taught, but it's even more remarkable that neurofeedback training could be used to support the teaching. Having teaching and brain training both used synergistically is a really exciting idea.
---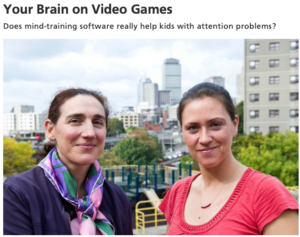 Your Brain on Video Games
Does mind-training software really help kids with attention problems?
Excerpt from the Article
"Cognitive training systems, meanwhile, are meant to strengthen key mental skills, such as short-term memory, eye-hand coordination and visual processing—abilities many adults and students without ADHD may want to improve. Cognitive training "could be helpful for anyone," says Frenette. "But it's especially pertinent for children with ADHD, because they have such deficits."
"I think it helped some kids more than others, but it was really interesting to watch their progress," she says of the neurofeedback program. "Around session 30 to 35, it seemed like all of a sudden, they got it."